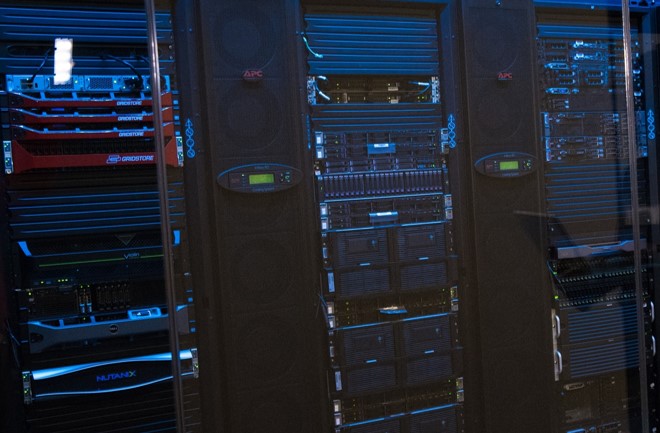 Dedicated Servers vs. Colocation Services: Real Data Center Options for Your Small Business.
In 2019, the National Small Business Association conducted its Technology and Small Business Survey1 of 550 small business owners. 74% of respondents said that keeping up with technology is very important to the success of their company. However, the biggest challenges they face with their organization's use of technology are inadequate security measures (24%), cost of upgrades (17%), time to fix problems (17%), maintenance costs (14%), lack of technical expertise (9%), and outages (7%).
As a small business executive, you probably agree with these findings but may dismiss the viability of outsourcing your IT to a data center as an option only for large enterprises. That is certainly not the case. Selecting a dedicated server or colocation services from the right data center can maximize the potential of your current technology, deliver a stable and secure infrastructure, provide a team of technical experts, and help you put an IT plan in place that will drive future business growth.
Let's first define dedicated servers and colocation hosting and then we'll review the benefits of each in a data center environment.
Dedicated Server and Colocation Hosting
Dedicated Server:
A dedicated server is the hardware component of a dedicated hosting service provided by a data center. It enables your business to rent a dedicated server that is configured and deployed specifically for your organization (hence the term – dedicated) and housed in the data center's facility. The server is used exclusively by your business and includes all related software and a direct connection to the Internet. Since yours is the only company using the server, it is referred to as a single-tenant environment.
Colocation Hosting:
A colocation data center opens its building and infrastructure resources to businesses that want to place their own servers and other hardware in the data center space. The client business rents space in the data center to store their equipment and uses the data center's electricity, air conditioning, Internet connectivity, and physical security. Space for your company's servers can be rented by the rack, cabinet, cage, and even an entire room.
Let's evaluate both options:
How Can You Benefit from A Dedicated Server Solution?
You have unique business challenges, objectives, and goals but you probably don't have the in-house IT resources to build and deploy a custom solution. A data center's dedicated server solution can deliver three key benefits to help you achieve those goals:
Yours and Yours Alone: The server is allocated to you and you alone. This dramatically increases your flexibility since you can use the hardware in one way and then quickly and easily change the applications or other capabilities as your company requirements change over time. It gives you the flexibility you need without incurring the cost of hiring an in-house IT staff, delays in setting up a dedicated server room, or the need to continually maintain, upgrade, and change your IT resources.

Cost Savings: Building your own server room requires a large up-front capital outlay for hardware and infrastructure as well as additional funds for anticipated future growth. A data center's dedicated server solution provides both upfront and ongoing cost savings by enabling you to upgrade hardware at any time and scale your service needs up or down without expensive overhead.

Superior Technical Support: Most small businesses don't have the funds to hire a full staff of highly trained technical professionals to monitor their equipment around the clock, 365 days a year. A dedicated hosting service gives you the opportunity to use the data center's team of expert support personnel. Not only will they meet with you to design an IT solution that is specific to your needs, but they will work 24/7 to monitor traffic, prevent cyber threats, replace equipment, implement upgrades, and perform other functions that maintain continuous availability.
How Can You Benefit from Colocation Services?
In a colocation environment, you are renting a data center's space to house your servers and use the data center's infrastructure which has been designed to achieve the highest levels of availability, connectivity, and security. Choosing this option means that you don't have to be concerned with expansion within your own building. This results in considerable cost savings and enables you to deploy your servers much more quickly than you could otherwise.
Although colocation hosting also provides you with a great deal of flexibility because the hardware belongs to you and you can configure it in any way you would like, standard colocation data centers require your company's IT team to managed and maintain your equipment. This includes software installation, hardware repair and replacement, and other IT activities you would perform if the servers were stored in your office.
If your team is not up to date on the latest technology, is unable to frequently travel to the data center, or you simply don't have IT professionals on staff, you will want to partner with a colocation data center that provides additional support including remote hands and white-glove service.
The Data Center Advantage
While dedicated servers and colocation servers have distinct advantages, a data center's core capabilities benefit both options. The advantages of a data center vs your business' in-house server room or spare office include:
Flexibility: As your company's business needs change and IT resources become more advanced over time, you want to be able to take advantage of the latest technology and capabilities to keep you ahead of your competitors.

Scalability: A data center environment will enable you to quickly adjust for increasing compute, storage, and network needs that would be costly and time-consuming to implement in your facility.

Efficiency and Reliability: Data centers are built from the ground up to maximize technology resources. The building's power, cooling, and connectivity infrastructure have been designed for maximum efficiency, reliability, and cost-effectiveness. Not only are these systems efficient in and of themselves but their redundancy enables your collocated servers or dedicated servers to maintain a guaranteed uptime SLA.

Physical Security: The physical security of your business may take a back seat to your concerns over cyber-security, but in a data center, they are equally important. Perimeter cameras, an around the clock on-site security staff, biometric devices, badge readers, fire and flood detection devices, and other security resources protect you from potential attacks and long-term outages.

Cyber Security: Hackers are continually changing the rules of the game – deploying new threats just as we learn how to defend against the old ones. Staying ahead of the latest threat with a team of highly trained professionals implementing a combination of sophisticated security measures and a laser focus on IT security enables data centers to provide the level of protection small businesses cannot attain on their own.

Limited Exposure: Choosing an offsite hosting option like a data center limits the exposure of your internal network to outside threats. Mission critical applications and confidential data can be protected with the use of multiple data center security layers and employee end user attacks can be more easily contained to the individual user when the data center is used as a critical line of defense.

Network Connectivity: Lightning fast and always on connectivity is no longer something that is nice to have but a must have for your business to be successful. A data center can provide connectivity and flexibility with multiple ISPs and cross-connect capabilities in one location plus pricing competition, the elimination of bandwidth bottlenecks, redundancy, and reduced latency. The high level of network connectivity your business will achieve at a data center is not something any individual ISP could provide to your in-house server room.
It would be cost-prohibitive and time-consuming for you to build a server room that delivers the scalability, flexibility, infrastructure, and security that a purpose-built data center can provide to you today.
Choosing to outsource your IT infrastructure to a data center is an easy decision to make. What is less certain is whether you should choose a dedicated server option or the colocation option. There are pros and cons to each. It comes down to your goals and the level of support you need managing the resources.
Choosing the Dedicated Server or Colocation Server Option That's Right for You.
Don't try and compare yourself to other businesses to determine which IT option is best for you. Every business is unique. You need to consider things like your security vulnerabilities, your budget, your in-house technical skills, the amount of control you want to have over your servers, and your requirements for scalability and flexibility over time.
When determining the best data center for your needs, evaluate their dedicated server and colocation capabilities, uncover whether they can deliver the IT infrastructure and technical expertise you need, and determine if they go above and beyond with their service delivery.
At MULTACOM, all clients can work with our expert engineering team to design and deploy a custom solution just for you. Our managed dedicated server clients can also take advantage of DDoS mitigation technology, automated network optimization software, multiple levels of data center redundancy, 24/7 on-site engineers, equipment on hand, and unique end-of-life hardware disposal.
Our MULTACOM white-glove service offers colocation clients remote issue resolution, free remote hands, free remote reboot, fee setup, multi-level power monitoring, parts on hand, the ability to borrow servers when needed, 24/7 on-site engineers, and unique disposal of old equipment for your protection.
Have a question? Call one of our MULTACOM engineers or chat with us now.
1-800-618-4628
Additional Resources

1National Small Business Association, 2019 Technology and Small Business Survey.